Our Delivery Models
Design, Development, Consulting assignments what we do, requires the complete reliable delivery models (Onsite / Pure Offshore / 3-tier Hybrid Onsite-Offsite-Offshore) for the partnership to work to our Client's advantage in terms of efficiency and cost. We have a very effective delivery models which will ensure:

Fast Turnaround
High Quality
Effective Solutions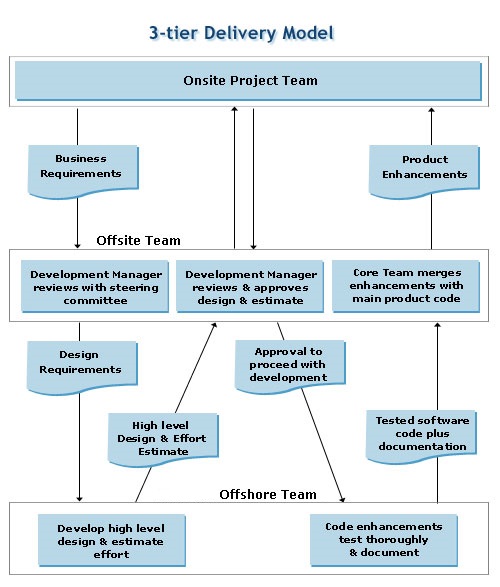 Our Methodologies

The adoption of a cohesive methodology derived from combining industry leading principles and concepts, is critical to successful development. We choose the best suited software development methodology based on important project considerations, such as project scope, deliverables, and requirements, to name a few. Any project's development process begins only after an appropriate software development methodologies has been mutually decided such as:
Waterfall Development Model
Rapid Development Model
Agile Development Model
We can also quickly adopt to any other methodologies suggested by the Clients.
Tools & Technologies


Software Development: C, C++, .NET, Sharepoint, JAVA, Google Map API, RFID & Biometric SDKs, WPF, DELPHI,  GPS API, SMS API, Short Code API, etc.
Web Base Development: .NET, PHP, JAVA, ASP, AJEX, JavaScript, JQuery, CSS, XML, HTML5, DHTML, WordPress, Magento, Joomla, Payment Gateways APIs, etc.
Mobile Base Development: .NET, Windows 8.1 SDK, Android SDK, IOS SDK, Phonegap, Titanium, J2ME, etc.
Python, Blockchain, Angular 2/4/5/6 and Node JS
Specialized development in Salesforce and MS Dynamics
Database: SQL Server, MySQL, Oracle, MS Access, Mongo DB etc.
Design and Graphics: Adobe Software, etc.
Web Servers: IIS, Apache-Tomcat, etc.
Operating Systems: Windows (All Versions), Linux, etc.
Software Testing: MbUnit, Test Director, etc.
Project Management: Teamlab, Team Foundation Server, Bit Bucket, Git GUI, etc.