The New-age mantra of 'business-on-the-go' seems to be catching on fast. Why, Should you be left behind when your competitors are exploiting every possible opportunity to expand their clientele.?
KreyaLogic developes end-to-end Mobile Solutions across Iphone, IPod Touch,I pad, Android & windows. We have a team of most proficient and tech-savvy mobile apps developers. Our skilled developers have in-depth knowledge of major platforms or frameworks used such as Ionic, Icenium, Titanium, Phonegap, Native for Mobile apps development.
When you choose KreyaLogic, you are partnering with most cost-effective team that has been designing and developing feature rich Mobile Apps. for may years.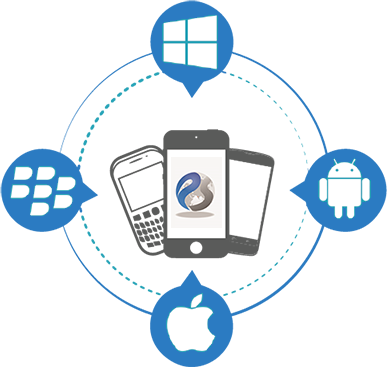 Our App. Development Process
Concept Analysis
With the experience of 100+ successful App Development project executions, Primetech bring idea from concept to realty.
Research & Strategies
At these stage where your concept will actually taking place. With know how in implementing complex solutions, Primetech will provide a customized approach to every stages of app development process.
We keep you involved in every step of design & development to ensure that you are constantly meeting your set goals.
Wire-Frames & Documentation
Creating a digital wireframe document and understanding some basic UX and typography decisions is essential in the App Designing process. It is of highest importance and it is foundation for providing successful app development.
User Interface Design
User Interface is where people interact with devices and screen flow will take place on your specific application. These rich UI design is what steers' consumer towards App store downloads & Purchase.
App Development
After UI Design Approval, Our Proficient team will start coding your application based on process flow & documentation. Primetech encourage you to work side by side with our development team during these phase.
Testing
Mobile App Testing involves each and every thing about the app from spelling to its functionality, consistency and usability. These make sure that app works correctly across all the major smartphones and mobile devices & ensures that your application maintains highest degree in software quality assurance.
App store Submission
Submitting applications to their appropriate stores is the last step in the development process. Once the app has been submitted, it will be under your full control, pricing and account information is totally up to you.
App Marketing
To create a profitable business out of the mobile app there should be a clear and efficient app marketing strategy. Remember a good app with a very good app marketing process can lead you to monetize your app effectively. As we know in the end all business operations can be reduced to three words – Product, People and "PROFIT"
If you are looking for quality partner or vendor, to assist you develop applicaitons for Mobile Web & Mobile Apps, then we would be pleased to discuss how we might fit into your plans.